COMING FEBRUARY 2018

ORPHAN TRAIN TO KANSAS - A TRUE STORY

"A terrific contribution to the literature on orphan trains,

from the descendant of a train rider."

~Christina Baker Kline, Author of the New York Times bestselling novel, "Orphan Train"
I am pleased to announce, after obtaining new and important historical information, my first two books (Fly Little Bird, Fly! & Beyond The Orphan Train) will soon be joined into one book -
ORPHAN TRAIN TO KANSAS - A TRUE STORY
~~~~~~~~~~~~~~~~~~~~~~~~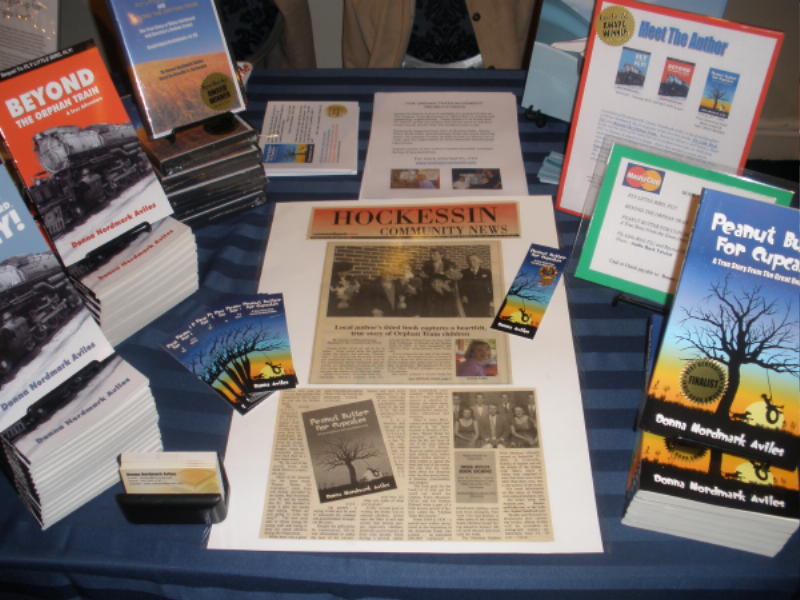 Display Booth - 1st Annual SPBE in NYC
~~~~~~~~~~~~~~~~~~~~~~~
BOOKS BY DONNA NORDMARK AVILES
PEANUT BUTTER FOR CUPCAKES, A True Story From The Great Depression, ISBN# 978-1-60047-216-9 Ages 9 and up. Honored with the IndieBRAG MEDALLION for 2009. WINNER of the 2009 Literary Foundation's CHRISTOPHER ROBIN AWARD for Children's Literature. FINALIST in the 2009 Next Generation Indie Book Award as well as the 2009 BEST BOOKS Award.
As the stock market crashes on October 29, 1929, Oliver Nordmark fears for his job at the silk mill. When his nightmare comes true and the mill shuts down, Oliver is hesitant to allow his wife, Estella, to take a job at the local coffee shop. When he finally gives in, with tragic results, Oliver and his six young children struggle to survive as the Great Depression takes its grip on the country.
PEANUT BUTTER FOR CUPCAKES is the true story of the Nordmark children. Their father, Oliver Nordmark, is the subject of the author's book, Orphan Train To Kansas. Find out what lies ahead for May, Bud, Margaret, Oliver Jr., Jim, and Benny as they learn their life lessons from a father who never had a parent of his own. Life with Oliver is full of fun and adventure one minute, but marked with poverty and abandonment the next. A story that will leave you with a deeper understanding of what life was like during the 1930's, and how "boys will be boys" even in the hardest of times!
"Engaging, informative and educational, Peanut Butter For Cupcakes brings alive the life and times of one of the most difficult periods of U.S. history. Unlike standard history text, or those big biographical tomes typical of books covering the Great Depression, author Donna Aviles delivers a story written to capture the heart and soul of the reader."
Peter N. Jones, PhD Cultural Anthropologist
School Visits
I am now scheduling for the 2018-19 school year and look forward to bringing the story of the Orphan Train Movement to many more students. Although I focus on the tri-state area, I am more than happy to travel, to bring this lost piece of history to your school. If you'd like to plan a visit to your school or organization, just send an email to daviles@comcast.net or check out the link above.
Library Display at Wilmington Christian School
Donna Aviles - Author Presentation, WCS, Hockessin, DE
WCS Students - Young Readers Day Presentation
HOW TO PURCHASE BOOKS
ORPHAN TRAIN TO KANSAS (Pre-order for Feb, 2018) - $15.00
PEANUT BUTTER FOR CUPCAKES - A TRUE STORY FROM THE GREAT DEPRESSION - $15.00
BOTH BOOKS - $25.00
Send a check or money order to Donna Aviles, P.O. Box 1303, Hockessin, DE 19707. Please indicate if you would like your books signed and add $3.75 for shipping.
Books can also be purchased from www.amazon.com , www.barnesandnoble.com or ordered from any larger bookstore.
ABOUT THE AUTHOR
Donna Nordmark Aviles resides in Delaware and is the granddaughter of Oliver Nordmark, the protagonist of her books. She has worked in many fields including foreign exchange, social services and business. After raising three children, Aviles returned to her early love of writing. She enjoys speaking with school students and organizations, and is passionate about sharing the nearly lost history of the Orphan Train Movement. She welcomes your questions or comments in the GUESTBOOK section of this website. To contact Donna Aviles, send an email to: daviles@comcast.net.